Standard Process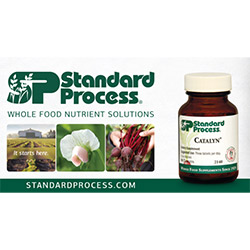 What is it?
Since 1929, Standard Process has been dedicated to the field of nutritional supplements and the whole food philosophy introduced by Dr. Royal Lee. Discover just how resilient your body can be when given the proper nutrition. Standard Process is the visionary leader in whole food nutrient solutions, applying holistic nutrition that empowers practitioners to transform lives.
Is it right for me?
By following the Standard Process Purification Program, clients will be working toward sustained, long-term weight management. The ideal weight-management system is not a quick fix but a long-term commitment. This requires lifestyle changes that will continue long after the purification process has been completed.
It is recommended that you walk 30-45 minutes at least four days per week. Strenuous exercise should be put on hold during the 21-day program.
Programs Available
10-day Healthy Inflammation Response Program- Active Lifestyle Support
Following this program for just 10 days will help jump-start your body's normal inflammation response process and put you on the fast track to living a healthier, more active life!
10-day Blood Sugar Support Program
Following this program for just 10 days could help support a well-functioning blood sugar metabolism and establish new habits to support vitality. The program includes a diet plan, patient guide, and supplements.
Standard Process 21-Day Purification Program
With the 21-day purification program, you can turn healthy choices into habits and turn those habits into meaningful, healthy change. This Standard Process Purification Program supports the whole body's natural toxin-metabolism processes. Patients who have finished the purification program found:
Increased energy and vitality
Better digestion
Less bloating
Improved weight management
Clearer skin
Shinier hair
Better sleep
Clearer thinking
Better management of challenges related to natural toxin load in the body
Learn more here: https://www.standardprocess.com
If you'd like to learn more or schedule an appointment, please don't hesitate to contact our practice today.
---
About Stynchula Chiropractic & Sports Rehab Center | (703) 204-1220