Lipo Melt–The Ultimate Light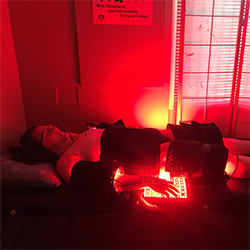 Have you ever wished that you could visibly smooth your skin AND lose inches, all while just laying there? Now, you can! The Ultimate Light Lipo Melt is a great way to achieve the aesthetics that you are looking for, without exercise.
How Does It Work?
In aesthetic applications have shown that red light tends to stimulate fibroblast cells which then cause collagen and elastin to form. Infrared light has been shown to stimulate circulation, which can help multiple cell structures resulting in a healing response. Of course, diet and exercise are important to lead a healthy lifestyle, while utilizing various light therapies can be an added benefit, potentially improving both appearance and well-being.
The Ultimate Light delivers multiple times more mid-600nm and near infrared light than the competition. This is due to the number of microchip components per pad and the spacing between the chips. Patients experiencing the Ultimate Light will enjoy a much deeper and complete exposure to these wavelengths of light. The session is painless; there is no heat or discomfort involved and no risk to either the patient or the operator. Completely safe. Totally effective.
The Ultimate Light reviewed over 60 peer-reviewed papers on tissue repair and pain control. Although most studies use low level lasers, more recent studies reveal very similar results with LED systems. The studies show overwhelming positive results
LED-based therapy is a pain-free, safe way to promote natural cell response without going under the knife. Clients can expect reduced appearance of cellulite, restoration of skin firmness and texture, and reducing appearance of physical wrinkles and fine lines. The Ultimate Light Lipo Melt is a phenomenal option for clients who have worked hard with their weight loss and want to show off their skin, or even those who want to immediately decrease imperfections.
Please call us for current pricing specials!
For more information visit: https://www.ultimatelighttherapy.com/
---
About Stynchula Chiropractic & Sports Rehab Center | (703) 204-1220